Caesar Haircut for Men at State Street Barbers
Looking for the perfect summer cut to show off in the sun? You'll love the Caesar haircut for men. It's the perfect lightweight haircut and it's a trendy, yet low maintenance style that's great for warmer temperatures.
This style is popular among men of all ages, and we're confident you'll love how you look with this fade.
The Look: Caesar Haircut for Summer 2016
The Caesar haircut can best be described as a traditional fade. When you ask for it at State Street Barbers, your stylist can do the cut with or without a part, depending on your preferences. It's perfect for summertime fun, but because it's a professional, clean-cut style, it's great for your day job, too. Best of all, men love the Caesar haircut fade because it's a wash-and-wear style—little to no product is necessary to make this cut look its best, and if you forget to set the alarm and wake up a bit late, you won't have to scramble to look your best.
Who Does This Cut Look Best On?
The Caesar haircut is great for men and boys of all ages, and is also ideal for men with receding hairlines or thinning hair. It's a cut that highlights the hair that you do have in a flattering way, so it's unsurprising that it's chosen by so many men as their cut of choice.
What Season Is the Caesar Haircut Popular For?
We notice that men choose these shorter, more low maintenance cuts for the warmer months, presumably because it's easier to take care of when the priorities lean more toward days at the beach and outdoor activities. Without the need to comb, part, coif, and style the cut, it's an ideal solution for looking great even as the heat soars.
How to Make It Yours
This style is great for athletic type men, as well as men who just want to look good without having to put in a lot of work. The sporty style is great for guys with a fast-paced lifestyle—virtually no style time means you can be on your way in just a few minutes.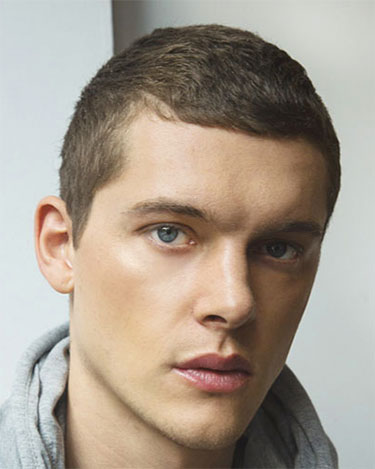 Best Hair Types for the Caesar Haircut (with Part or Without)
As previously mentioned, the Caesar haircut is great for men with thinning hair, as it is kept closely cropped and doesn't require thick, flowing locks to look neat and stylish. Men with textured hair love this look as well, because it keeps their strands tamed while still showing off its natural touch.
Optional Styling Products
No styling products are inherently necessary with this cut, but a good shampoo and conditioner or other washing routine is recommended to keep you looking your best. Check out State Street Barbers' selection of men's grooming products to find out what's best for your hair.
When to Get a Trim in Chicago
Most men's Caesar haircuts look best when they're kept very short, so it's recommended to get a fresh cut about every month or so. This works out perfectly with our memberships deal, which gives you the option to get a cut 11 times over the course of the year at a cost-effective rate.
Make your appointment for a stylish Caesar haircut at State Street Barbers today!