Brushed Up Men's Haircuts at State Street Barbers
If you're looking for a modern style that will set you apart from the crowd, consider getting what's called a "brushed up" haircut. This style features hair that's short (perhaps even shaved) on the sides and the back, and longer on the top. The brushed up haircut is a style that gained popularity over the past couple of years, and doesn't seem to be showing any signs of fading away.
Who Looks Best With the Brushed Up Haircut?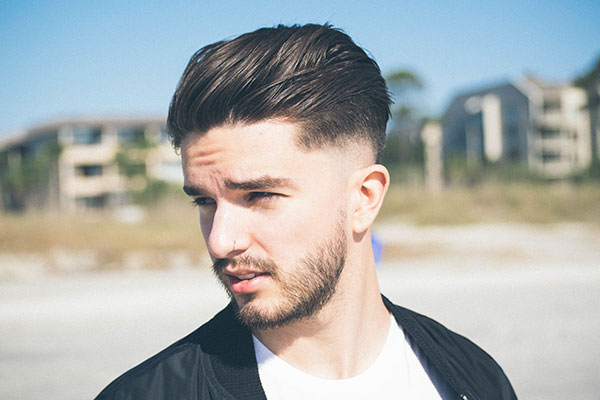 The brushed up haircut looks great on men with square jaws, as it is a bold haircut that works well with strong features. Due to the sides being so short, having high cheekbones can also be a plus for this haircut.
What Seasons Is It Most Worn?
Though we see people sporting this look year-round, we tend to think of it as a summer and fall haircut, primarily. After all, it's during the warmer months that men don't have to wear hats to stay warm, and for that reason, this high style haircut can be put on display! However, if it's winter or spring, don't let that deter you—come on into State Street Barbers for a brand new look.
How to Wear it With Your Wardrobe
The brushed up haircut looks great with a large range of styles, and can be styled either casually or formally (slicked back with gel or pomade). If you're not sure about how to style it to look your absolute best, be sure to ask for some tips from your barber or stylist when you come in for the cut. Our professionals will be able to help you learn how to style your brush up pompadour before you head back out.
What Hair Types Work Best with the Brushed Up Fade?
Though thicker hair tends to work better with this cut, the truth is that just about anyone call pull this look off (except for men with truly thinning hair, as it will not be a flattering cut). Your stylist can use certain products to make your hair appear thicker and fuller, as well, for a different look.
Useful Styling Tips for Brushed Up Hair
Texturizing powder, pomade, and certain hairsprays can all contribute to your new look with a brushed up haircut. Products will help keep your hair where you want it to go once you've styled it, and the stylists and barbers at State Street Barbers will have no problem recommending specific products for your hair.
How Frequent Should You Get Cuts in Chicago?
For this haircut to look its best, the sides will need to be kept very short. Once they start growing longer, the cut can begin to look, well, overgrown. Keeping everything neat isn't difficult, though—we recommend getting a trim every four to five weeks to keep looking good. At State Street Barbers, you can purchase our Chairman membership package, which allows you to get a haircut just about once a month for a lower cost than haircuts paid for individually.
Schedule your haircut online now