Side Part Pompadour Men's Haircuts at State Street Barbers
If you're interested in a classic haircut that will have you looking your best, look no further than the side part pompadour. While popular currently, it's also been a popular hairstyle over the past several decades. It's a classic cut because it's easily adaptable to many different hair lengths—it can be kept either long or short on the top, so it's easily personalized to your individual taste.
Who Looks Best With the Side Part Pompadour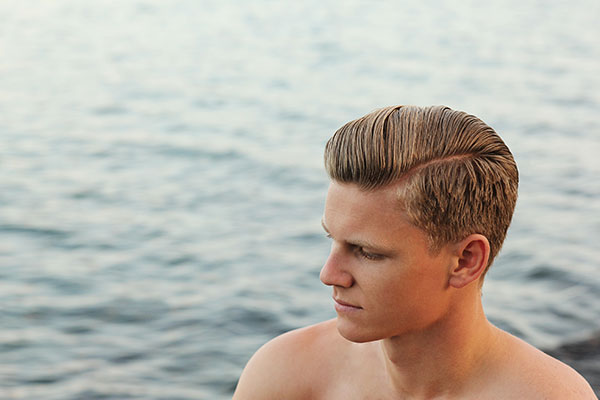 Men with rounder faces are ideal candidates for the side part pompadour fade, because the haircut adds height but not bulk to your overall look. It balances out rounder faces without being overwhelming, and offers a clean-cut, stylish look.
What Seasons Is It Most Worn?
This is a haircut that works for many seasons, but is very popular in the colder months because the amount of hair used for it means it keeps people a little bit warmer. That being said, it's a strong haircut no matter what the weather is like outside. Whether you want to wear it all summer long on the boat and at the lake house, all winter long with your heaviest suit, or, both, you'll be more than prepared.
How to Wear it With Your Wardrobe
The side part pompadour is a decidedly more "adult" hair style than some other cuts (like, say, shaving your head into a Mohawk), so it's understandable that this is a popular haircut with professionals. If you're getting dressed up, you should take extra care to ensure your hair looks great, but if you're just hanging out at home, a quick comb-through will suffice.
What Hair Types Work Best with the Side Part Pompadour Hairstyle?
The side part pompadour is ideal for a large range of hair types, because it can be tailored to short or longer hair on the top, so your hair can be thick or thin, textured or straight to work well with this cut. It may not be the best option for men with very curly hair, as the side-part pompadour style is a very shaped and sculpted look, which can be difficult if you have curls to deal with.
How to Style a Side Parted Pompadour
You may need a blow dryer for this haircut, depending on how long your hair is. Fear not, it will only take a few minutes to dry. After that, you'll want to use a comb and some pomade to shape the hair into a look you are satisfied with. At State Street Barbers, we love Layrite and American Crew products, but we can recommend other options if you prefer.
How Often Should You Get Cuts in Chicago?
With a haircut as smooth and high-style as this, you'll want to keep it looking tight, and that means coming in for a fresh trim every month or so. When you're a State Street Barbers guest, you'll have the option to purchase a Chairman membership, which allows you to come in for 11 haircuts at a discounted rate—perfect for taking care of yourself for the entire year!
Schedule your haircut online now